CHICAGO — After a recent Bulls practice at the Advocate Center, star forward Pau Gasol is about 20 minutes into an interview, the conversation flowing, when the reporter gets the signal he needs to wrap up. But it doesn't come from a Bulls PR representative, and the team doesn't have to rush to an event.
However, Gasol does—to the Chicago Symphony Center.
"What else you got?" Gasol asks the reporter, referring to another question. Then Gasol says, while being his gracious self, "Thank you, brother. I appreciate you. I've just got to get to the symphony. I'm going to see Kissin."
That would be Evgeny Kissin, one of the finest classical pianists in the world. The following night at the United Center, after the Bulls narrowly beat the Pacers, 96-95, Gasol was ecstatic about something else.
"It was great, amazing. I met Kissin at the end of the performance," he said. "I'm going to start going more to the symphony."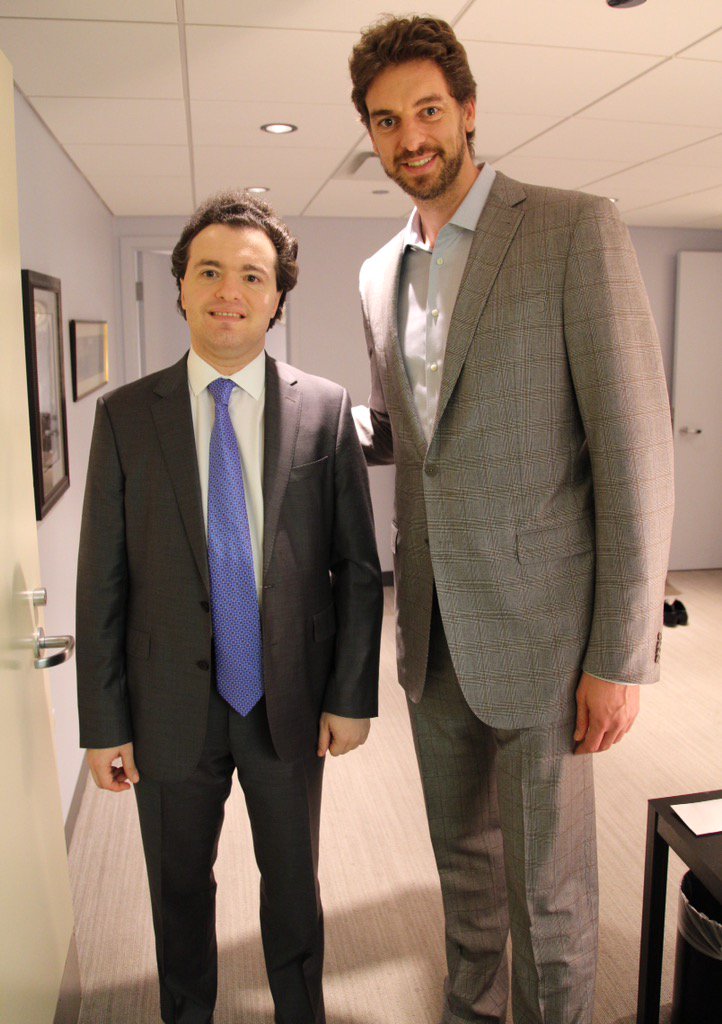 There are not many NBA players who are as well-rounded and multiculturally engaged than the 14-year veteran and two-time champion. Born in Barcelona, arguably the most diverse and cosmopolitan city in Spain, and to two parents who are in the medical field—his mother, Marisa, a surgeon, and father, Agusti, a nurse administrator—Gasol developed a bigger-than-basketball mentality at a young age.
He started taking piano lessons at 8 and could play Pyotr Ilyich Tchaikovsky at 13 (he has a keyboard at his home in Los Angeles). At 11, he wanted to become a doctor, motivated to cure after hearing about Magic Johnson's HIV-positive announcement in 1991, and later enrolled in medical school at the University of Barcelona where he cut open cadavers. He also speaks Spanish and Catalan, teaches himself French and Italian, reads historical novels and watches documentaries. Oh yeah, he's also been the Bulls' bowling and ping-pong champion.
"[My brothers and I] grew up in a very open-minded environment," said Gasol, who would like to pick up Spanish guitar one day. "Our parents did a great job I think really educating us, with values such as respect, tolerance, honesty, have respect for everyone, the ability to listen. And our school did a great job of teaching us those values."
With a passion for the arts and helping those in need, Gasol has continued to grow his cultural and humanitarian endeavors around the world, assisted by his younger brother, Marc, of the Grizzlies. And the international community has felt Gasol's impact, including his fellow NBA players who named him the NBPA's Global Impact Player in July at the Players' Awards.
On Monday night, before the Bulls game, he was presented with the honor, along with a $50,000 check from the NBPA to benefit his and Marc's emerging foundation, which they created two years ago.
"It's just incredible pride for your peers to recognize you for not just your basketball skills, but your impact off the court," Gasol said. "You try to touch as many lives as you can, but at the same time, you also try to inspire as many people as you can to do the same thing as you do. If you're in a fortunate enough position that you can help others and help others in need, it's an incredible feeling and very rewarding to do that."
The Power of Pau's Philanthropy
Taking a page from his parents' professions, Gasol has made children's hospitals a key focus of his community work. He's a longtime ambassador of St. Jude Children's Research Hospital in Memphis (where he started his career), and has a program where he covers the costs of one annual doctor fellowship at Children's Hospital Los Angeles (from his time with the Lakers). In addition, he's been a Spanish Committee Ambassador for UNICEF for 12 years, traveling to impoverished areas in Africa and the Middle East.
Every time Gasol travels to Memphis and Los Angeles for a game, he carves out 3-4 hours of time, often in a 36-hour turnaround trip, to visit the local children's hospital, according to his U.S. foundation director, Andrea Moiseve. In addition to general in-room visits, he has developed a long-term friendship with one of the children in Los Angeles who has been in and out of the hospital for months to undergo 15 surgeries.
His name is Dylan Prunty and he suffers from Mitochondrial disease. For three years, Gasol has brought him special gifts, played LEGOs with him (especially Prunty's favorite Star Wars) and talked to his parents who are often bedside next to their son for hours during the day. In January this year, for Prunty's ninth birthday, Gasol surprised him with a LEGO book of artist Sean Kenney's creations that were featured at an exhibit outside of Chicago.
Pau Gasol and Dylan Prunty at Children's Hospital Los Angeles earlier this year. (Courtesy of the Prunty family)
For a time, Prunty's medications were preventing him from walking due to swelling, but he is able to now a bit with braces. Prunty was initially nervous about the braces, but Gasol gave him confidence when he told him that he had to use crutches once after a hoops injury.
"They developed a special bond and he'll watch Pau's games," Moiseve said. "He always says, 'Pau made that basket for me.' It's so beautiful. It's really great. He has fans wherever he goes, and he's always so kind and takes all the time that the fans need to walk away feeling great about themselves, and great about their experience."
Marc added, "You can use your success in many different ways, but he uses his success and his exposure for always sending a good message and helping other people. He's somebody who always puts everyone else in front of him all the time. He's always concerned about other people before he worries about himself."
Last season some time around March, Gasol had an afternoon free in Chicago and decided to go to the local children's hospital. He didn't want any fanfare; just an unpublicized visit. There he encountered a 17-year-old boy named Logan with cystic fibrosis who was struggling to start his physical activity of the day. He wasn't feeling well and lacked the motivation.
"So Pau said, 'You know what? You've got to walk up the stairs, you've got to run the stairs? OK, let's do it together,'" Moiseve said. "And the boy couldn't believe it. He said, 'What do you mean? You want to go do my exercise with me?' And Pau said, 'Yeah, let's go. We're hanging out. Let's go do your exercise.' And so they ran up the flights of stairs at the hospital and concluded his regimens for the day.
"If it takes an hour, if it takes three hours, if somebody needs him, he'll be there. That's the way he does it on the basketball court—he's a team player—and he's a team player in life. And this child needed him, and he said, 'You know what? Let's go, why not?' Afterwards the nurses and the aids said that this little boy was so impacted that he said, 'I'm going to do my exercises now because Pau asked me to and I'm going to keep up with it.'"
The Gasol brothers established their first-ever U.S foundation in 2013, and another based in Spain last year, dedicated to children with obesity problems and empowering all children and their families to live healthier lives. In 2014, their foundation launched "Vida!" in conjunction with the Partnership for Los Angeles Schools, which now impacts more than 400 families in low-income areas of Watts, Boyle Heights and South L.A. Moiseve said the plan for next year is to set up "Vida!" in Chicago and Memphis, and then other major cities with under-served communities.
Pau and Marc Gasol during an NBA Cares event in South Africa this past summer. (Courtesy of the NBA)
"[Marc and I] want the foundation to be something that we look back in our lives and we feel that's been the biggest accomplishment of our lives—to create this foundation, to leave this legacy behind," Gasol said. "Basketball and sports have just been the doorway for us to do something more meaningful with our lives, and we have that opportunity. It feels great and we try to take advantage of it."
One of this year's highlights in Spain, where the brothers host annual basketball clinics in Barcelona and other events throughout the summer, included them receiving the country's prestigious Princess of Asturias award for their "sporting standards" and being ambassadors for "the Spanish brand."
"He's a class act," Joakim Noah said. "He's somebody who genuinely cares, very aware of what's going on around the world and somebody who uses his platform the right way. He's somebody who's been around the world with UNICEF. That's a hell of an experience as a basketball player who's not just staying at home every night getting double-doubles.
"He's somebody who's using his platform to put a smile on a kid's face of somebody less fortunate. He's just somebody who's experienced a lot in this league, and I get to sit close to him on the bus, so we talk a lot. He's somebody who I can learn a lot from because he's lived it."
Arts and Crafting New Opportunities
One of Gasol's ways of outreach is sometimes inviting kids from the children's hospital to his games so they can gain emotional wellness and a sense of community. Could kids experiencing his arts world with him be next?
"We talked about it," Gasol said. "Right now, we're at a very early stage of our foundation, so we try to establish certain things. But there are things, even with opera; for example, working with my friend [and famous Spanish tenor] Placido Domingo [and his National YoungArts Foundation] or Gustavo Dudamel, [the music and artistic director] of the Los Angeles Philharmonic. He has also a foundation that brings kids from the streets, tough neighborhoods, into a musical school. So we talked about doing stuff together."
Just like his global appetite to evolve his philanthropic endeavors, Gasol is the same way with expanding his multicultural experiences. While in Spain, he has toured some of the world's oldest cathedrals, such as Burgos and Basilica of Our Lady of the Pillar, and explored the Dali and Picasso art museums.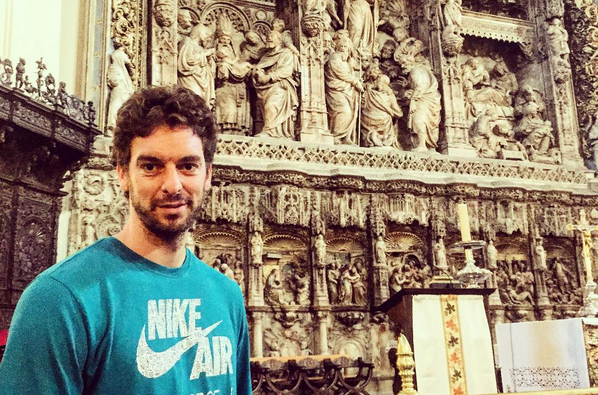 Gasol, who has "more of a desire to learn about art, and the history and past, in the last few years," also appreciates the work of Spainsh painters Joan Miro and Francisco Goya. He's been to the J. Paul Getty Museum in Los Angeles to enjoy European art and the Art Institute of Chicago. There he had a personal tour guide for more than two hours, learning about surrealism, impressionism and modern art.
But Gasol's latest obsession is the opera.
"It kind of takes my mind off of basketball and the pace of my life," he said. "It just gives me peace. It's just peaceful, it's relaxing, it's pleasant, it's beautiful. That's how it makes me feel. It just keeps me centered and I enjoy it. It really balances my life."
In fact, he has seen every performance this year at the Lyric Opera of Chicago, according to its director of marketing, Lisa Middleton. And that's simply unheard of for a professional athlete.
"I've never actually had a teammate who's interested in the opera, so it's pretty unique," Noah said. "I'm not into the opera to be honest with you."
Noah drew a blank stare when asked if his teammate ever tried to invite him. Gasol smiled about attempting to make the opera the special bonding activity for the team.
"When I go sometimes to musicals or operas or classical music, I try to, 'Hey, guys, anyone want to come?'" said Gasol, who noted Chicago's cultural landscape was "definitely a factor" in choosing the Bulls last year, and wanted to live close to the city's arts district. "I tried last year. Now I know who to ask. Some guys, it's just not their thing. But for certain guys, it's, 'Hey, maybe next time. Let me know.' I'll let them know.
"I try to open their mind up to something different, something new. They might not appreciate it, might not like it, might not be their thing, but if they don't try, they never know. So you've got to be exposed to it a little bit to start appreciating it, and I think it's a very healthy thing for anyone to get into."
Gasol's first opera was Tosca, which he saw seven years ago after meeting Domingo at Beijing Capital International Airport a day after the 2008 Olympics. Gasol took Nikola Mirotic, his teammate on the Bulls and Spanish national team, to see Tosca at the Lyric earlier this year. And former teammate Nazr Mohammel accompanied Gasol to Anna Bolena last season.
"It was really great," said Mirotic, whose Bulls locker is right next to Gasol's. "He gave me a book and I was reading before the opera because I was really interested, and I want to learn more about music and everything. A couple weeks ago, I went to the Chicago Symphony. I really feel lucky that I can learn from him—not just outside the court, but on the court. He's one of the best European players ever in the history, and this summer was the first time with him on the Spanish national team. And I saw in Spain how people love him, how they treat them. They treat him like a king. I was, like, 'Wow.'"
The Gasol brothers have, in fact, gone to the opera together in Barcelona at the Gran Teatre del Liceu.
"He always has that cultural curiosity. First of all, he doesn't have a family that he has to spend his time with," Marc said, laughing. "So he has a lot of time to do these things, whether in the summer or during the season. But yeah, he's a cultural guy. Madama Butterfly is the last one we watched. Of course, Madama Butterfly is an old, beautiful opera that we both enjoy."
So how does a seven-footer even fit in an opera seat?
The Lyric has it all figured out. Gasol either sits in a box, where the chairs are movable, or in a row right in the center of the opera house that has no row in front of it.
"He typically chooses it based on the show that he's seeing," Middleton said. "If Pau is sitting down in the audience, he's able to stretch out and be comfortable that way, and not blocking the view. He's so gracious because he always says to the person behind him, 'Do you want me to lean to the right and you lean to the left? Which way do you want to lean?'"
Gasol is so involved with the Lyric that he was featured on the promotional cover of Lyric's fundraiser in October called Operathon; meets and takes pictures with the cast of the evening's performance either at intermission or after the show; and he posts photos to his Instagram with the performers. Lyric, in fact, has benefited from Gasol's participation—and not just with occasional Bulls tickets from the Spaniard himself.
"What we're seeing at Lyric is sort of a renewed interest from a younger group of individuals," Middleton said. "We have a fairly substantial college program and they're very active on Instagram, and so when we're talking to them, they're mentioning it—'I saw that Pau was at the show. I saw his picture on Instagram.' And every time he posts, we see an impact on our Instagram members. They go up, so it's definitely helping in that way."
Now how about getting Gasol on stage to play some piano?
"I think that would be fun. We always have lots of walk-on extra roles," Middleton said. "I'll have to ask him if he'd like to do that. That's his next career."
By Jared Zwerling , the Senior Multimedia Writer for the NBA Players Association.